First, I have to say that I feel fairly good about how the whole thing turned out.
I pretty much just used the
base recipe
to get the procedure right, but I had to tweak a few ingredients. For one thing, we're not getting lobster tails anytime soon. For another, part of the fun was just seeing what people brought. We ended up with goat, andouille sausage (no chorizo to be found), crawfish, clams, mussels, and shrimp. I was not able to find Valencia rice, but I think the
Arborio
I found worked very nicely. I used chicken broth instead of water, definitely had more than 4 cloves of garlic, and doubled the tomatoes. And I added one secret weapon that I picked up from a jambalaya recipe: clam juice. Other than those items, the onions, peas, saffron, and parsley remained approximately the same. I did forget to cut the lemons, though, so I have about 6 of them in my fridge right now. Oh, well, one should never be without lemons.
The goat arrived in slabs, which was very exciting. Apparently my
pal
was allowed to enter the "exotic meats freezer" at
Cliff's Meat Market
, where he finally tracked some down. I don't actually know the lady who writes that blog, I just did a lot of chain-reaction web-searching for Cliff. Hell of a guy, who actually turns up in a surprising number of blogs. And the legend of Cliff grows. . .anyway, my bud is back there in the freezer where Cliff produces a frozen goat haunch. He takes it out to the bandsaw/meat-slicing-apparatus and proceeds to slice off 4 thick slabs of goat, then says "Ahh. . .lets call that a couple pounds." Great guy, I made my first butcher purchase ever from him. I think I was 10.
Well, the slab form forced some improvising, but we seasoned the meat with salt, pepper, paprika, and fresh oregano, then put them all in a baking dish. Some flat champagne and two bottles of under-ripe
chile beer
were poured in, and we popped it into the oven. In retrospect, I should have covered it with foil, but it was still right tasty.
The whole process of making paella is just about building layer after layer of flavor, and then letting all of those layers blend together at the end. You cook the sausage first, and then your meat of choice. Then you cook the onions, garlic, and parsley, which pick up the flavors from the sausage and the seasoned meat. Then you add the tomatoes, and then the rice which cooks with all of those other flavors before you add the liquid. I used more of a risotto method for adding liquid, doing it in batches rather than all at once. This was a technique choice, as well as being the only way I could keep my pan from overflowing. The recipe also said to wait and add the saffron when you return the meat to the pan, but I added it with the liquid. It's saffron, might as well get all you can from it. Most of the cooking time is spent stirring rice and adding more liquid, as the shellfish all cook rather quickly. Paella is supposed to have a layer of toasted rice at the bottom, but you do have to work to keep it from burning. The crawfish came pre-cooked, so we just steamed them with lemon juice & water to heat them back up. Shucked and ate a few, and then Erik, his lady Diana, and my cousin set about shelling the rest and pulling the meat for the main dish. Once the texture of the rice was almost there, we added the clams and mussels. Just tucked them down into the rice, and coming very close to spilling paella all over the cooktop, and let them steam in all that goodness. Once they all began to open, I topped it with parsley, green peas, crawfish, and shrimp. Cut the heat, sliced the goat, and stood back to see what people thought.
I have to say, this is a very visually impressive dish. And it's darn tasty, too. I think it carries a fair intimidation factor with it, and it does take a fair bit of work. But as long as you have the method straight in your head, and someone else is paying for all the meat, it's well worth the effort. My paella pan is no longer just a wall decoration, it has become a functional part of my kitchen arsenal. And now, for your viewing enjoyment, here is a picture of our paella we had in Barcelona, and a picture of my paella in progress: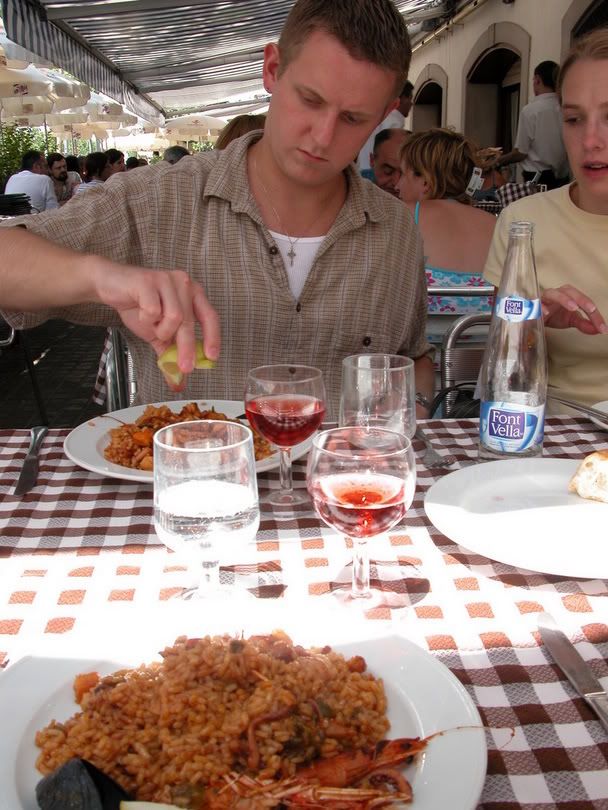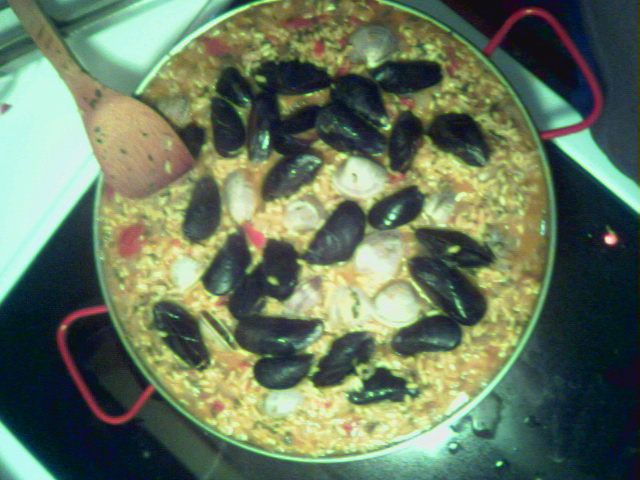 Next up: The Mad Chef attempts to cook Christmas Eve dinner for his in-laws!